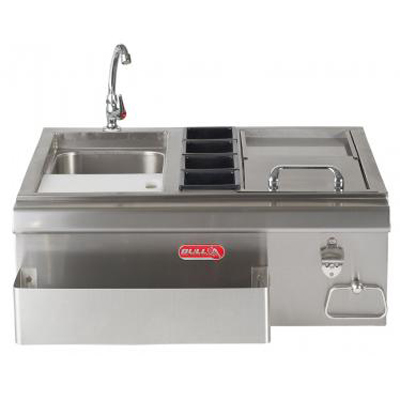 The Bull Outdoor Products drop-in / built-in stainless steel 30" Bar Center with ice chest & sink is perfect for all your outdoor kitchen entertaining needs. The Bull 30-inch bar center comes with all the ingredients for the perfect outdoor BBQ experience. This stainless steel bar center keeps your outdoor kitchen neat and organized. Constructed of high quality 304 stainless steel, this bar center features a handy sink with faucet, separate condiment and bottle storage, as well as covered ice storage which will enhance and simplify your entertaining experience.
Manufacturer:
Bull Outdoor Products, Inc.
Item #:
97623
Price:
Contact Us For Pricing
Slide open storage door / built-in ice chest with drain
Sink with swivel faucet
Towel holder
Removable plastic cutting board
Four removable condiment trays
Removable bottle rail
Bottle opener
Durable 304 grade stainless steel construction
Dimensions
30" x 28 3/8" x 10 3/4"
Cut Out Dimensions
29″ X 22 3/4″ X 10 5/8″
Weight
58 lbs.
30″ Bar Center Spec Sheet (417kb)


Downloads require Adobe Acrobat Reader for viewing.
Click the icon to get the latest version of Adobe Reader.