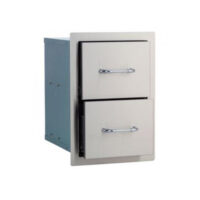 The Bull Outdoor Products Stainless Steel Double Drawers are an excellent way to help organize your outdoor barbecue kitchen island. These large drawers are fully enclosed which helps keep your utensils and supplies clean and dry. The premium quality construction of the Bull Stainless Steel Double Drawers has the high end fit and finish you would expect from Bull and will help complete your outdoor kitchen dream.
Manufacturer:
Bull Outdoor Products, Inc.
Item #:
56985
Price:
Contact Us For Pricing
Two large drawers
304 Grade Stainless Steel Construction
Dimensions
15″ x 22″ x 20 1/2″
Cut Out Dimensions
12 3/4″ x 19 1/2″ x 20 1/2″
Weight
48 lbs.
Double Drawers Spec Sheet (328kb)


Downloads require Adobe Acrobat Reader for viewing.
Click the icon to get the latest version of Adobe Reader.