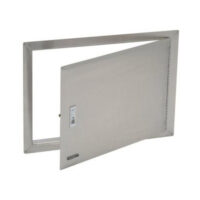 Stainless Steel Locking Access Door: This large access door can provide opening in the barbecue island for propane tank storage, access to gas lines and general storage.
Manufacturer:
Bull Outdoor Products, Inc.
Item #:
89970
Price:
Contact Us For Pricing


Large opening for easy access to storage areas within the BBQ Island.
Push button lock with key
Durable 304 Grade Stainless Steel Construction
Dimensions
25 1/2″ x 18 1/4″ x 1 1/2″
Cut Out Dimensions
23″ x 15 3/4″ x 1 1/2″
Weight
16 lbs.
Single Access Door Spec Sheet (312kb)


Downloads require Adobe Acrobat Reader for viewing.
Click the icon to get the latest version of Adobe Reader.