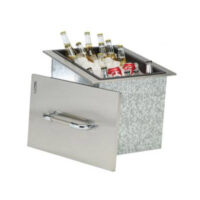 The Bull Outdoor Products Stainless Steel Ice Chest comes with a stainless steel cover and drain for easy cleaning. The Bull Ice Chest is well insulated and comes with a removable plastic condiment tray to protect heat sensitive food. The Bull Outdoor Products Ice Chest provides easy access to drinks and ice need to keep your guest cool on the long summer days.
Manufacturer:
Bull Outdoor Products, Inc.
Item #:
00002
Price:
Contact Us For Pricing
Thick lid for insulation and a heavy duty handle
Small removable plastic condiment tray
Single drain below unit
Durable 304 Grade Stainless Steel Construction
Dimensions
16 3/4″ x 15 1/8″ x 21 1/2″
Cut Out Dimensions
13 3/4″ X 20 1/2″ X 14 1/4″
1 1/2″ Drain Line
Weight
60 lbs.
Ice Chest Spec Sheet (326kb)


Downloads require Adobe Acrobat Reader for viewing.
Click the icon to get the latest version of Adobe Reader.